June 2, 2022
MEEPA Co-hosts MAAW Webinar – June 2, 2022 – Accessible Information & Communication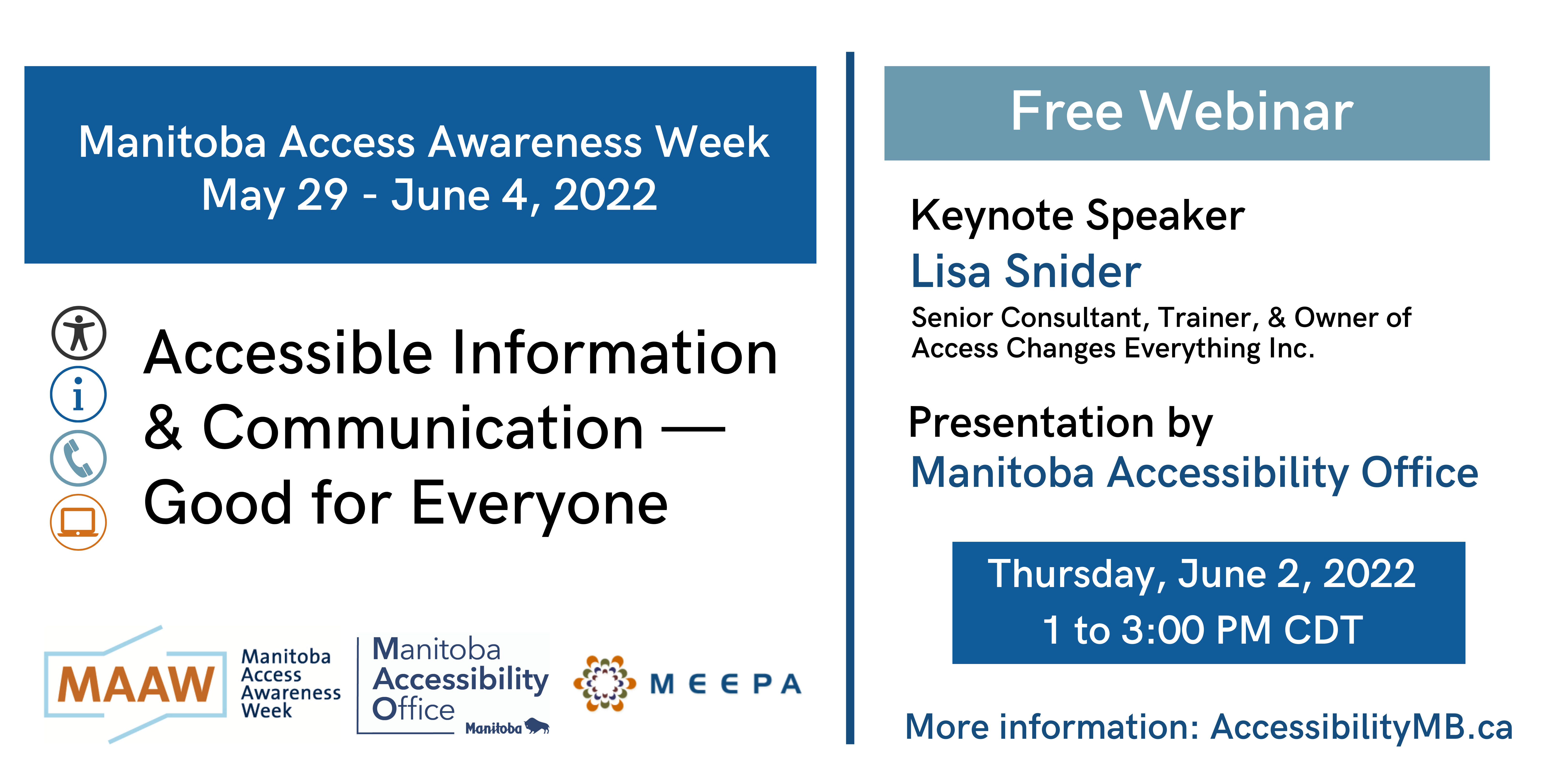 In recognition of Manitoba Access Awareness Week 2022, this webinar will focus on removing barriers to information and communication.
About this event
Join Manitobans across the province in celebrating Manitoba Access Awareness Week (MAAW) 2022 online from May 29 to June 4.
Webinar Agenda
You Will Learn About:
– The importance and benefits of digital accessibility.
– The basics of accessibility legislation in Manitoba and Canada.
– How some people access digital materials.
– Practical tips on how to start removing barriers, and making digital materials and media more accessible, for people with different disabilities.
Featuring:
– Introductory remarks by the Honourable Rochelle Squires, Minister of Families and Minister responsible for Accessibility
– Presentation by the Manitoba Accessibility Office on the new Accessibility Standard for Information and Communication
– Keynote presentation by Lisa Snider, Senior Consultant, Trainer and Owner of Access Changes Everything Inc.
– Question and answer period (for pre-submitted and live questions)
For more ways to get involved in MAAW , including images to use on social media, please visit: AccessibilityMB.ca/MAAW.html
---
Accessible Information & Communication – Good for Everyone
A free webinar co-hosted by Manitoba Employment Equity Practitioners Association (MEEPA) and the Manitoba Accessibility Office (MAO)
Date: Thursday, June 2nd
Time: 1 to 3 p.m. CDT
Details: The day before the event, you will receive a password protected Zoom event link, and instructions.
REGISTRATION CLOSES AT 12 p.m. CDT on Thursday, June 2nd. After this time, please email MAO@gov.mb.ca for event registration.
The webinar will be presented in English with English-ASL Interpretation and automatic captioning. Please indicate your disability accommodations during registration.
Be sure to check your junk folder for email updates and Zoom info for the event.
For more information, visit: AccessibilityMB.ca
If you have further questions, or concerns, please contact the Manitoba Accessibility Office at:
MAO@gov.mb.ca, 204-945 – 7613, 1-800-282-8069 (Ext. 7613) (toll-free)